Pictures Anyone?
Here are a few pictures to check out if you have the time. Click the thumbnail to see the full size picture, then use you Web browser's Back button to return to this page.
August 18, 2001

These pictures are very large and could take a while to download.
August 1, 2001

Family Pictures
July 26, 2001

Jeri and her Mom
May 12, 2001

Here's Jeri after getting her hair washed and styled. Spiky.....
April 8, 2001
Just a few pictures of Jeri showing off her new hair cut. It's down, for a casual look.
Sunshine Kids - Trip to Las Vegas, March 11-16, 2001
Kristina, Nurse Katie, Jeri Kristina and Jeri
The Houston Group
Jeri and a friend The whole group
2/12/01

Isn't Valentine's Day gonna be grand!.
12/10/00

Testing out the hat that Dad brought Jeri on the last trip to Norway.
Jeri with the 2000 Lombardi Award candidates. l-r - Jamal Reynolds - DE - Florida State (winner), Dominic Raiola - C - Nebraska, Steve Hutchinson - G - Michigan, Ben Hamilton - C - Minnesota
9/2/00

Jeri striking a few poses before going out for lunch and shopping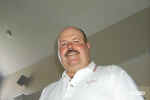 Jeri had to test the camera before I could take her picture

[ Home ] [ Stiff Drink ] [ Event Diary ] [ Photo Album ] [ Related Links ] [ Giving Blood ] [ Search ]

Brit: brit@stickyshoe.com
Virg: virg@stickyshoe.com
This page last updated: June 13, 2006