A few more pictures for those that can't get enough.
8/5/00
Follow the link on the left for pictures from Rene's Birthday Party.
L-R -- 1. Jeri wearing Randi's Audrey wig from Little Shop of Horrors
2. Jeri
3. The girls
4. Brit's Angels
6/24/00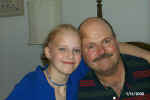 The resemblance is down right
scary - 5/16/00
The Parkers & Days at Jeri's Birthday dinner along with our waiter and some of
the glass work in the restaurant - 5/16/00
Jeri shows that she can still look good.
Just takes a little hair magic. 4/8/00

Acting out the "Got Milk" ads, courtesy of the TCH
radio station Lollipop crew right after check in. - 3/14/00
Randi and Jeri, Fall 1999 School
Pictures - Jeri hates hers.
Champions Superstars Champions Superstars at Jeri, Rachel & Sarah
1999 Team Picture the Astrohall, August,1999
Jeri getting picked up from school to get her braces
removed. - 2/25/00
Picking Jeri up after having her braces removed. - 2/25/00

[ Home ] [ Stiff Drink ] [ Event Diary ] [ Photo Album ] [ Related Links ] [ Giving Blood ] [ Search ]

Brit: brit@stickyshoe.com
Virg: virg@stickyshoe.com
This page last updated: June 13, 2006